Tips and...
Come one come All! Share your tips, free patterns or whatever else you'd like contribute! Send your documents (.doc, .pdf or whatever...no copyrighted materials PLEASE) to webmaster@capitolcityquiltguild.org I'll do my best to add it as quickly as possible.

THANKS!!

Snap Bags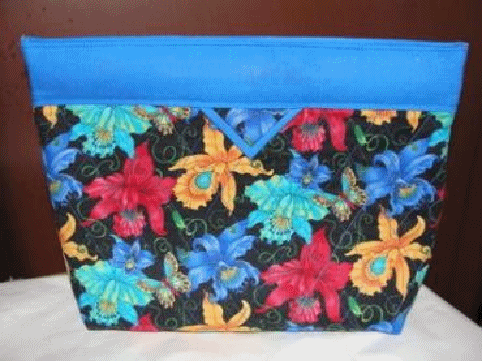 Two fat quarters will make two bags, 8 ½" x 9"
CUT: (if you want to make two opposite bags, layer fabrics and cut together)
1 – 9 x 18 Outer Fabric
1 – 9 x 21 ½ Lining fabric (lining is always 3 ½" longer than outer fabric)
1 - 8 ½ x 18 Interfacing or batting (always 1/2" narrower than bag, same length as outer fabric)
2 – 3" squares for prairie point tabs
2 - 8" pieces of measuring tape ( always 1" shorter than width of bag). Round off the sharp
corners (with your all purpose scissors) and cover with masking or painters tape to keep metal
from poking through fabric. (be careful, that metal is SHARP!)
SEW:
Sandwich the batting between the inner/outer fabrics, centering outer fabric and batting with lining. Quilt (or not) as desired.
Turn under ¼ inch on each end of lining fabric. Fold the lining over the top of the outer fabric to form casings. Pin tabs in center of each casing. Top stitch across, catching raw edge of tabs.
Place measuring tape pieces in casing with curved side facing out toward front of bag.(numbers facing toward inside) (otherwise won't snap)
Fold in half, right sides together and sew up sides (careful not to catch tape measure)
(If you'd like a loop, cord or straps, sew in the seam)
Zigzag or serge raw edges for a nice finish.
Make a mark about 1" up from the bottom on each side. Center the bottom of the bag over
the side seams and stitch across both ends at marks to form bag square bottom.
Turn and done!!
TIPS:
Buy metal measuring tapes at dollar store! Make sure to get "locking' tape and lock it after you make that first cut!!
Embellish with buttons, beads, fringe, double prairie point or ribbon tabs.
Use scraps for patchwork outer.
Add pockets by adding another layer of fabric, with edges folded under, on top of lining before stitching sides.
Eileen Gioia 8/18/11 CCQG