Tips and...
Come one come All! Share your tips, free patterns or whatever else you'd like contribute! Send your documents (.doc, .pdf or whatever...no copyrighted materials PLEASE) to webmaster@capitolcityquiltguild.org I'll do my best to add it as quickly as possible.

THANKS!!

Twist and Turn
For this technique you use two contrasting fabrics – one is focus fabric, the other background fabric. Cut 2 squares of each color for each block needed. (4 squares per block)

Cut rectangles of one of your fabrics. Iron one edge ¼ " under. Fold side to center to form a triangle and press. You may make your triangles any size you wish – this is your creativity and design inspiration.
Sew the triangles to sides wanted and top-stitch down (folded or flat)

Example:
Small triangles of light fabric were sewn to 4 sides of dark fabric and stitched on bias fold to form curves.


Red/white pinwheel above is actually large triangle sewn to one side of each square – all squares same fabric.
Ideas on Twist and Turn book cover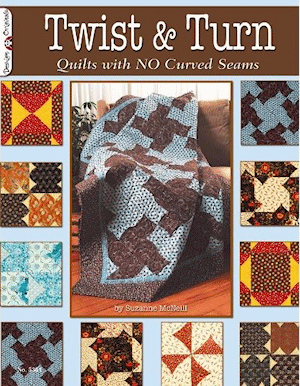 Her book is: 10-Minute Blocks, published by Design Originals, ISBN-10 is 1574216694, ISBN-13 is 978-1574216691
Click here
to find the book on Amazon.