Activities
There are numerous activities that happen with standard reoccurrence within the Guild. Below, you'll find explanations of many of the activities.
Guild Garage Sale

The Guild is collecting contributions for a spring garage sale, time and place to be announced later. The sale will include normal garage sale items as well as quilt-related things. Start saving those housewares, knick-knacks, toys and games, costume jewelry, and anything else you would like to move on to a new home, and bring them any time to Jean Kaufmann, Carol Rasmussen, or Jan Asmann.
Fat Chance
Fat Chance is an opportunity for members only to win fat quarters of fabric for their stash. Check the theme of the month, bring one fat quarter (18`` x 22") to the meeting, and enter your name in the drawing. Usually there are enough entries for two drawings.
| Month | Fat Chance Fabric Theme |
| --- | --- |
| July | Red, White & Blue |
| August | Red |
Quilter's Treasure
Quilter`s Treasure table has fabric scraps, patterns, books, notions, etc., and fun! The items are free and new items are welcome.
Heartwarmers
Quilts are made by Guild members for chronically and critically ill children in local hospitals. These quilts are collected at the March and September meetings; however, quilts will be accepted any time by the Heartwarmers contact Bev Wilkinson, 517-712-5521, wilkinson7614@netzero.net.


| | | |
| --- | --- | --- |
| | The following video is a presentation of the latest Heartwarmers Quilts. If you can't see the video below to view the video on SmugMug. Enjoy! | |
| | Your browser does not support the video tag. Please use the SmugMug button above. | |
Angel Quilts
Small baby quilts, 12-16", which are given to parents as a keepsake in memory of their premature or newborn baby they have lost. Please attach a CCQG label to the back of the quilt. Quilts are accepted any time by the Angel Quilt contact Deb Feldpausch, feldpaud53@yahoo.com, 989-593-3111.
Hospice Quilts
Quilts are given to adult hospice patients in the Palliative Care Unit at Sparrow Hospital. They can be any color or pattern at least 48x60". The quilts will be given to the families as a keepsake in memory of their loved one. Please attach a CCQG label to the back of the quilt. These quilts are accepted any time by the Hospice contact Deb Feldpausch, feldpaud53@yahoo.com, 989-593-3111.
Bereavement Quilts
Children's quilts 24x24" with a plain light neutral backing fabric of 100% cotton. These quilts are given to the Emergency Room at Sparrow Hospital. When a child dies in the ER their hand and foot prints are put on the back and given to the family for a keepsake. Contact Bev. Wilkinson, wilkinson7614@netzero.net, 517.712.5521
Chemo Lap Quilts
Lap quilts given to chemo patients to help them stay warm during chemo treatments at the Breslin Cancer Center. The patients keep their quilts and bring them back and forth for each treatment. The quilts should be at least 48x60" and no larger than 60x72". If you provide the quilt top with binding, Bobbie will back with fleece using polyester batting. Masculine or patriotic quilts are needed for men. She also takes donations of finished quilts, fabric, thread, and batting. (If purchasing fleece for backing, please get two yards.) Contact Bobbie Slider, thequiltlady@live.com, 517-896-3775.
Patriotic Quilts
Quilts of Valor - http://www.qovf.org/ Contact Joheather Grant, jogrant10@yahoo.com, 517-862-7003.
Batting for Charity Quilts
Any Guild member may request batting for charity quilts, if supplies are available. Contact Cathy Thomas, cathy@lgquilting.com, 517-626-2412.
President's Block
As a tribute and thank you to each CCQG Board President, guild members are asked to make an Ohio Star block in the president's choice of colors. For the 2018-19 President's block, Jean Kaufmann has asked that the fabric be a black background with a bright, batik for the star. The block size should be 11" unfinished, 10 1/2" finished.

Please sign your block, bring it to the guild meeting and leave it at the Vice President's table.

Instructions

Cut from your background fabric (white below):
4 - 4" squares
2 - 4¾" squares. Cut these squares twice diagonally to make 8 quarter square triangles

Cut from your focus fabric (green below):
1 - 4" square
2 - 4¾" squares. Cut these squares twice diagonally to make 8 quarter square triangles

Piece like this: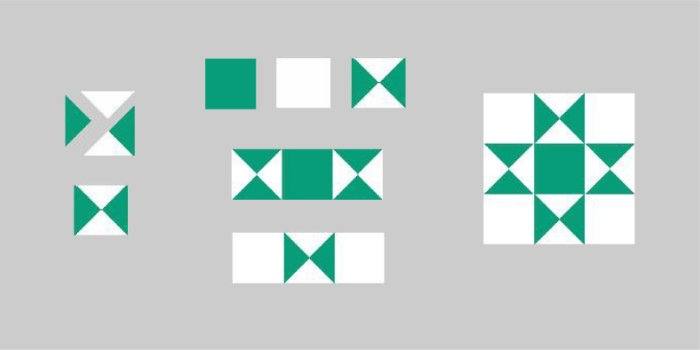 Check here for the President's block instructions.