Boutique Suggestions
As you know, the Quilt Show is October 27 & 28, 2017. This seems a long way off but time always slips by so quickly. While making your holiday decorations and gifts, consider making a few extra to donate to the Boutique. If you're in need of ideas, a few are listed below:
Gift Bags
Coasters
Mug Rug
Tote Bags
Snap Bags
Aprons (kitchen, BBQ, crafting, sewing)
Table Mats
Candle Mats (cotton and wool)
Table Runners
Potholders/Oven Mitts
Pincushions
Kitchen Towels
Thread Catchers
Pillows
Pillow Cases
Ornaments
Bibs (Baby and Adult)
Casserole Covers/Caddies
Doll Quilts
Christmas Stockings
Wine Totes
Tissue Holders
Coffee Cup Cozies
Purses
Fabric Bowls
Fabric Baskets

Triangular Thread Catcher
Contributor: Sally Middleton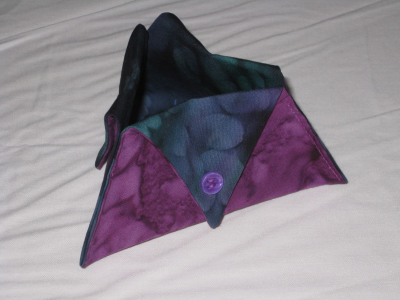 This comes from titled Gingerbread Girl's Quilting Adventure.

From that website: When I was in Washington state last month, I bought a couple of these thread catchers at the La Conner quilt museum. They are very handy for neatnicks like me who need a small receptacle to collect all the loose thread when I applique or do any other hand work.

My friend Hena saw this and being an engineer, figured out how to make one in 30 seconds flat. After she successfully made herself a sample, she showed me how easy it is to make it so here is my first tutorial.
Click HERE to go to the website for a complete set of instructions.