Boutique Suggestions
As you know, the Quilt Show is October 27 & 28, 2017. This seems a long way off but time always slips by so quickly. While making your holiday decorations and gifts, consider making a few extra to donate to the Boutique. If you're in need of ideas, a few are listed below:
Gift Bags
Coasters
Mug Rug
Tote Bags
Snap Bags
Aprons (kitchen, BBQ, crafting, sewing)
Table Mats
Candle Mats (cotton and wool)
Table Runners
Potholders/Oven Mitts
Pincushions
Kitchen Towels
Thread Catchers
Pillows
Pillow Cases
Ornaments
Bibs (Baby and Adult)
Casserole Covers/Caddies
Doll Quilts
Christmas Stockings
Wine Totes
Tissue Holders
Coffee Cup Cozies
Purses
Fabric Bowls
Fabric Baskets

How to make a boutique tissue box cover with bow
Contributor: Sally Middleton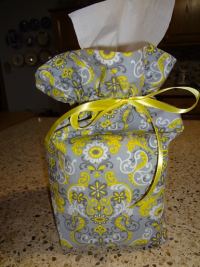 This suggestion comes from a website called Chicago Now).

This is the intro from the site: About six years ago I got a free pattern to cover my tissue boxes with style. I made tons of them, I knew that pattern so well that I apparently didn't feel the need to save it. Plus I was working full time, my sewing room was not nearly as organized as it is now. Flash forward to 2012 and my daughter asked for one for the nursery. Sure, I said. I looked in my pattern files, drawers and pattern boxes. I called two quilt stores and then I went online. Found a pattern which I Made up the pattern and the dimensions were way off, didn't come near to fitting a boutique tissue box.

Click Here for instructions and helpful pictures.